Last Updated on December 13, 2022 by Ellen
Last Updated on December 13, 2022 by Ellen
Our Angkor Wat budget travel tips can save you some money, while you help support local people at the same time. We think that's an important and authentic gesture to the communities we visit.
December 2022 update: Cambodia reopened to international tourists in 2022. Check with the U.S. Embassy in Cambodia for current entry requirements.
The Angkor Archaeological Park is a World Heritage site in Cambodia that features ancient temples. The park area includes several old cities from the Khmer Empire, from the 9th century to the 15th century.
As Cambodia's major tourist attraction, admission costs what it cost, but there are other ways to save money, while helping the locals economy and the people.
Angkor Wat budget travel tips
Angkor Wat budget travel tips
Park passes
We bought three-day passes into the park for $62 each. If we had been in the area more than a week, we would have gotten the seven-day pass, which only costs $10 more. This spectacular park is well-kept and there are many places to hike around, in addition to exploring ancient temples and cities.
Visit the official website for Angkor Park.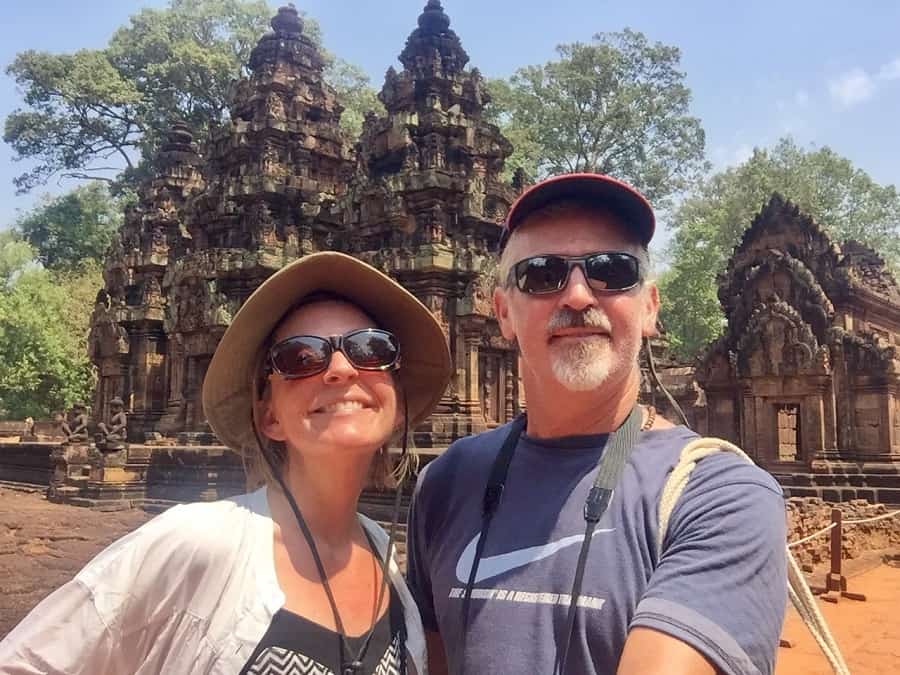 Budget accommodations
There are a gazillion places to stay for a few bucks a night in nearby Siem Reap. It's a backpackers haven with tons of dorm-rooms. A few important elements elevated our place above all others, in my humble opinion.
We spent $14 a night for a large room, private bathroom, refrigerator, kettle, couch, air conditioning, outdoor chairs, and there is cool pool in the complex — much needed after hot temple hikes in the jungle all day. A dorm for two people just isn't as economical for all that we got.
But the best part of our stay was our Airbnb host, Ravut. He was simply wonderful. He answered every question we had about local life, Cambodian and Khmer history, plus he offered tips and off-the-beaten path advice that only a local would know. We had some great conversations.
If you are looking for a place in Siem Reap, away from the craziness of Pub Street, but within walking distance to it, check out Ravut's Airbnb listing.
He has a mix of private rooms, dorm beds, and even a couple of studio apartments, all at various price points. We cannot recommend him enough, and we would stay at his property again without question.
Transportation
Ravut also hooked us up with a driver for a very reasonable rate each day of our park pass. The park is so huge, you need a driver for the day if you are not on an organized tour. Our driver's name was Nin, and he was a wonderful young man.
Nin would take us to a temple or city, wait for an hour or two or three while we explored, and then drive us to the next temple. Depending on how much driving he did, the price was $15 or $20 a day. Two of our three days were really long – more than 10 hours – so of course we tipped and fed our friend.
For the truly adventurous and fit, and budget conscious, bikes can be rented if you want peddle around the giant park complex in the blazing jungle heat. You can also rent a motorbike – but why not support local drivers for the same price as a bike? You can still get plenty of exercise walking all over the park, as drivers will wait at each section for you to finish exploring.
Food
This tip is short and sweet: don't dine on Pub Street.
Prices are lower almost everywhere else away from this street designed to attract tourists. While it may be fun for some people to stroll down this road, I'd rather walk down any other street in town.
End note: a local Buddhist monk
We saved a little time on our last day to revisit Angkor Wat, which is the most famous temple. We enjoyed a late picnic lunch as we sat in the cool shade in one of the old libraries. And that's where we struck up a conversation with a Cambodian Buddhist monk who happens to be fluent in English.
His organization, Cambodian Buddhism Association for Vulnerable children, raises money to build drinking water wells in rural areas outside the Siem Reap area, build a school, and sponsor children so they can an education.
Let's face facts: yes, Cambodia is a great budget travel destination for people like us. But it's also a poor country and tourism is just one way we can help families and kids. If you are looking for a worthy, legitimate cause to donate to, this is one of those.
To help some of Cambodia's most vulnerable children, visit the association's official website.
And if you ever have the opportunity to go to Siem Reap, take it. It's a beautiful place.
Read more about Angkor Wat's history and its designation as a UNESCO World Heritage Site on the official website.
Other incredible ruins around Earth:
Earth Vagabonds Newsletter