Last Updated on May 28, 2023 by Ellen
Bohol Island in the Philippines is a popular tourist destination. Bohol Province includes Panglao Island, which also is a major tourist destination.
This post will give you some things to do in the region on both islands, including hot tourist spots and few places without as many vacationers.
Places to visit on Bohol & Panglao Islands
Bohol Island tourist hot spots
Chocolate Hills
The formation of these "hills" dates are unique. The sea retreated ages, and left a coral base. Rain washed away part of the landscape. What's left are these funky lumps – more than 1,200 of them!
The site is called "Chocolate Hills" because in the dry season, the mounds are brown. But we went during a time they were still green. Either color — it's a pretty cool place to check out.
Admission is a dollar. If you take a tour from Panglao, you'll likely spend a lot of money to be raced up to the hills and back to the beach if you are on limited time. Or you can rent a motorcycle and go at your own speed. Getting there on mountain roads was half the fun.
It's easy to find on Google maps.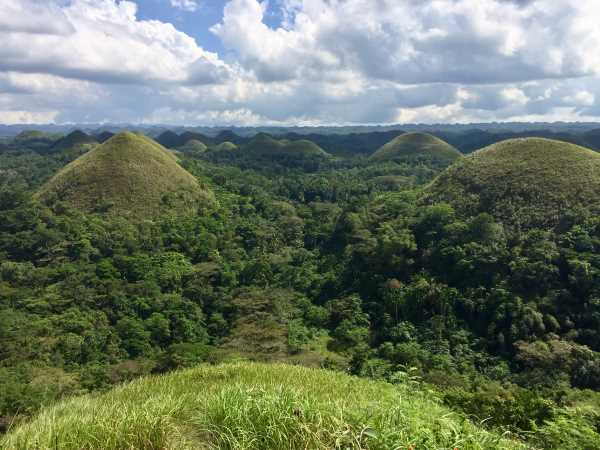 Tarsiers: Tiny primates
This is another heavily frequented tourist attraction on Bohol Island. Tarsiers are tiny primates that are endangered.
There are several spots to see these interesting creatures — sanctuaries and conservation centers. We went to a conservation center only because it was on our way from the Chocolate Hills to Panglao. The tarsiers were easy to spot: workers pointed them out as we approached each viewing station.
As nocturnal animals, they often hide under leaves of trees and bury their faces in their arms during the day. But we lucked out with one of the creatures – his face was in the sun.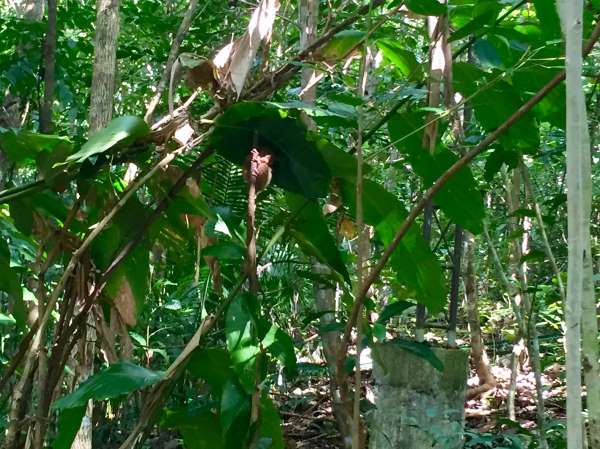 This conservation center also is easy to find on Google maps. Admission was the equivalent of $1.40.
Bohol Island quieter spots
I'm calling this section "quieter spots" because there are far fewer tourists in these locations — but there still are some tourists.
Pahangog (Twin) Falls
One of the top reasons to love Pahangog (Twin) Falls: not too many people. That, and it's a beautiful site!
It seems most tourists give up trying to find it. The last half mile of road isn't paved, and dried mud ruts might scare away novice motorcycle riders. We passed a few people who had gotten off their bikes and were looking around, lost at what to do.
Stick with it — the payoff is worth it!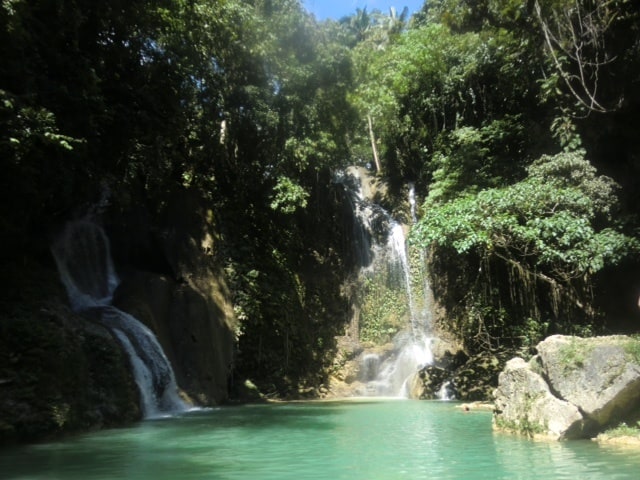 Admission was less than 50 cents. Its exact location is on Google maps.
The Twin falls are near the more frequented Ingkumhan Falls. To read about that spot, and other places for waterfall visits on Bohol and Cebu islands, see our previous post.
Anda Beach
Like the Twin Falls, you will see tourists at Anda Beach. But not many. These are people who have more time to travel. Anda's distance from Panglao is probably why most vacationers skip it.
Going by public transportation can take a few hours. From Panglao Island, it might take as many as three hours. We stayed in Garcia Hernandez, so we were more than halfway there.
Anda is a white sand wonder. You can wade out forever and the water is still only to your knees. I saw more starfish here than any other place on Earth. If you need a quiet beach day — this is your spot. (Note, I've only been there on weekdays.)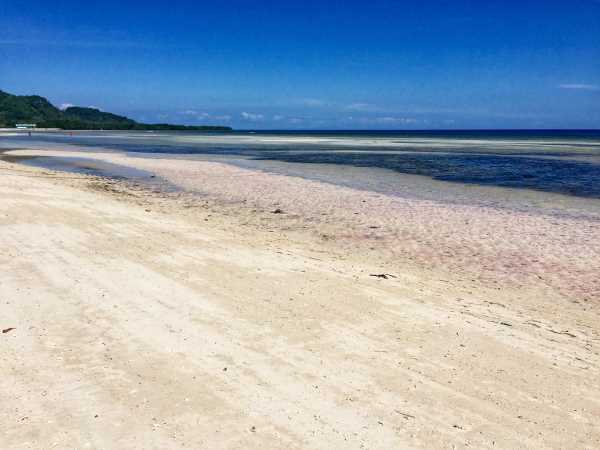 Panglao Island tourist hot spots
Just about everywhere on this small island is overrun with tourists. There is a new international airport that opened on Panglao within the last year of this writing. And so, there is a huge construction boom in town.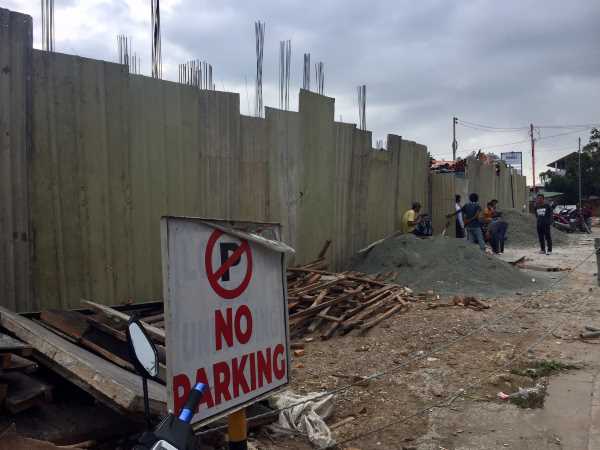 Alona Beach
This is "the" beach in town. You will find all types of shops and restaurants right on the beach. There is no concrete walkway – it's only sand.
Here you will see many tourists from all over the world trying to relax, vacation, make plans for the next day's events. You'll find a little bit of a hustle – but not much compared to other tourist hot spots, like Phuket, Thailand.
It's not a great swimming beach — there are too many boats. In fact, most of the diving and snorkeling tours depart from here.
White Beach
This beach is a few kilometers north of town. You will find a few shops, and hotels here and there, but it's mostly still locals.
There are tourists here, as well. But it is not as crowded as Alona. And, it seems investment is going to affect this area, too. I saw the construction of a high-rise hotel just getting underway on a prime piece of beach.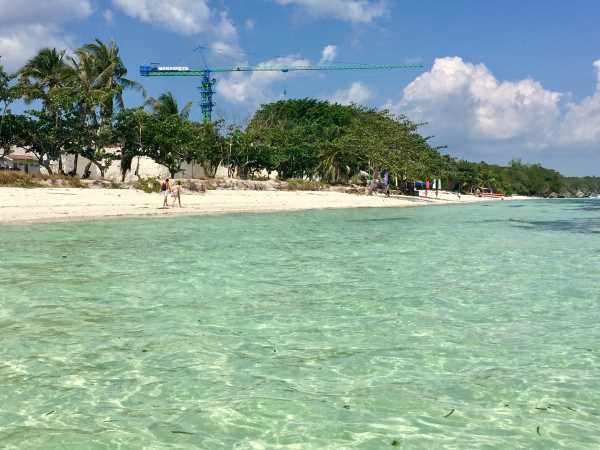 Bohol Island and Panglao Island in the Philippines
Every trip is what you make it. If you want relaxed, authentic, local interaction, you can find it on Bohol. Or if you want a faster-paced, activity-driven vacation week, you'll find that here, too, mostly on Panglao.
As slow travelers who enjoy authenticity, our preference is for the less-traveled routes. But, we also like to check out the hot spots — after all, they're usually hot for a reason!
Thanks for reading "Tourist spots on Bohol Island in the Philippines."