Last Updated on May 27, 2023 by Ellen
Note: Tedly and Ellen alternate writing posts while they are on enhanced community quarantine in a rural area of the Philippines, following a 14-day home quarantine. This is an account of their 'Lockdown Day 3.'
We are healthy and safe and wistful.
I got out of bed at 11:00 a.m. I continue to sleep late to avoid some hours of sun each day. My forehead and chest are already peeling from sunburn.
Staying up late also allows me to monitor the US equity markets which are open 9:30 p.m. to 4:30 a.m. our time. Here in Malay, Aklan, Panay, Philippines, we are exactly 12 hours ahead of EST.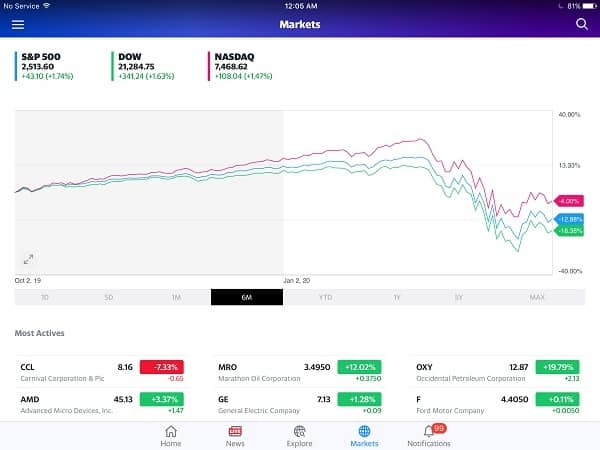 Of course, 'monitoring' means observing the financial wreckage and huge losses that many investors are dealing with at this time. It's painful! Barely two weeks ago investment portfolios were riding high, the world economy (outside of China) still booming. Now? It feels like 2008 all over again.
Global disaster
Such was my thinking on the beach today as I did some stretching and exercise. Looking across at Boracay island – said to be the Philippines most touristed – its beaches are now devoid of tourists and activity. I couldn't help but think of the damage to lives and families and economies and finances and retirements. What a mess!
This is how a global human disaster looks from a deserted tropical paradise. So beautiful. So surreal. A place usually swarming with vacationers; vacant – a quarantine pass required to walk down the street.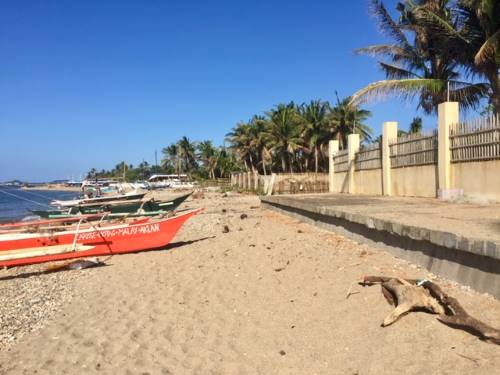 The good news, we all survived the last disaster, the last financial collapse, and the ones before that. And this too shall pass.
Thankfully, part of our early retirement plan was to always keep three to four years of living expenses in cash. So market fluctuations don't effect our short to medium term finances.
Still, the gravity of it all weighed on me today. It left me melancholy, wondering when places like this will again be crowded with sunbathers, partiers, parasailors — people without a care in the world.
Will there be such a world again?
More finance
In positive financial news, the tenant in our Cleveland, Ohio, USA rental property paid the April rent in full and on time. We are relieved to have that concern abated. Hopefully, he will continue to work and fulfill the lease terms in coming months.
For our part, we have now paid the remainder of our first months rent here at the HangOut Beach Resort. We also settled up our week two food and drink tab.
We will need to visit the ATM again soon. Our landlady mentioned the ATMs in town were temporarily 'offline' yesterday. We have some concern about that going forward. We intend to have a cash cushion.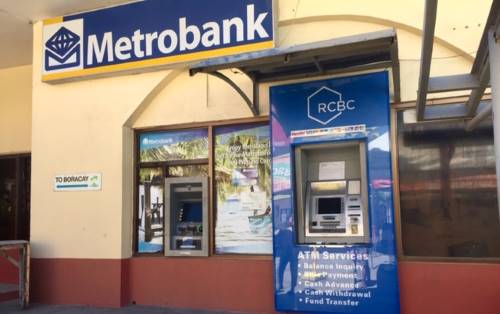 Food & garden news
Since our shopping trip early this week, we've been preparing more meals in our kitchen – relying less on our host and on-site restaurant. Tonight, I made pork chops for me and mom. Sides were boiled potatoes, tomato-cucumber salad, and rice. Ellen had leftover spaghetti with the sides (no pork).
While I cooked, Ellen and mom went with the resort owner and friends to her other nearby property where they are working on a large garden. We weren't able to go there until our two-week quarantine ended. But we've been eager to help out.
Check out the photo of my 81-year-old mom hard at work – in the dirt – in a house dress! Priceless.
Life is NOW!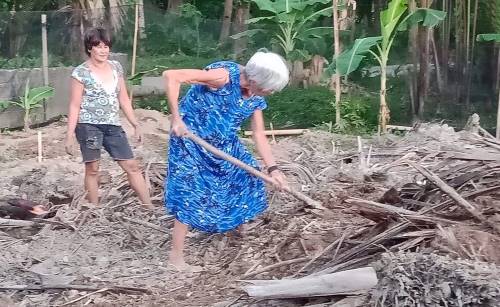 Thanks for reading "Lockdown Day 3: Finance, Food, Garden."
What to read next that has NOTHING to do with the new coronavirus: