Last Updated on June 3, 2023 by Ellen
Here is an easy, meaningful way to get out of the consumerism trap this holiday season: make a loan to a person who really could use a boost. A person who has no other way to secure a small amount of funds to change their life.
I've had a great experience with Kiva, a loan service organization that helps some of the most disadvantaged people in the world. Kiva's tag line: Dreams are universal, opportunity is not. How true.
I make a loan to a borrower of my choice. That borrower pays back the money on a predetermined repayment plan to a field worker acting as a middle man. When the loan is repaid Kiva restocks your account so you can loan out that same money again to someone else who needs a break.
My first experience with Kiva was when my mother-in-law gave me a gift card to make a loan a couple of years ago. It was one of the best gifts I've ever received. Since then, I've made several loans on Kiva. You can lend as much as you want, but the smallest loan is for $25. Potential borrowers have bios on the Kiva website to help you decide where to lend your money.
There are thousands of people who need help, like Rosalie in the Philippines. I loaned her money so she could buy wheels and other spare parts for her tricycle taxi. She's a married parent of five children who wants a better life for her family. She peddles passengers in that taxi every day. Her loan is to keep her bike in working order, to keep making money to support her family. She's not asking for a hand-out. I can only imagine what that kind of life is like.
Leila's bio on Kiva also spoke to me. She asked to borrow $225 to buy firewood, lime, and corn in Honduras, so she could grow her business of selling tortillas. I contributed $25 to her effort a couple of weeks ago, and already she's paid back $3.13. When I read about current events in far away places like Honduras, it makes me feel ever-so-slightly connected. As the country has protests over the presidential race (at the time of this writing), I know about this woman who lives in that country – who is simply trying to get by and make a better life for her family in a country besieged by all kinds of challenges. Yet, she's a woman like any of us. She just happens to have been born in a less advantaged country.
There is one woman in yet another country who is delinquent on my loan. She was considered especially high risk because of where she lives. I decided to lend $25 anyway. If I don't help, who will? And if I lose that $25 – so what? It's not gonna break me, and I'll gladly take that chance to help her.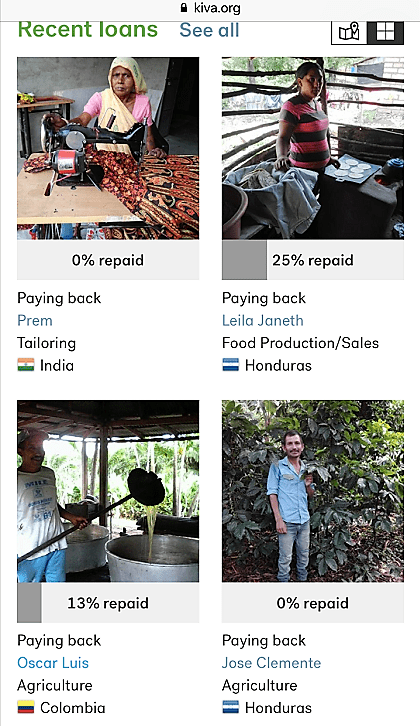 Sometimes I do contribute to men if there's something special about their bio that really speaks to me. It's so much more difficult for women to survive, let alone thrive, in poor, rural areas of countries with greater economic challenges, so that is why I mostly lend to women. I've also made loans to people in Pakistan, El Salvador, Colombia, Kenya, India, and other countries. There are people all over the world looking for a little help.
Kiva sends email updates when borrowers make payments. Sometimes, based on the repayment plan and the borrower's and field partner's risk factors, a payment comes in for just one dollar. Seems like nothing to people in privileged positions. But imagine having to hump your ass in order to repay one single dollar.
Check it out for yourself here, at kiva.org.
So before you buy yet another $25 gift card for Starbucks, some other chain, or iTunes, think about giving a true gift that can change a life. Get into the spirit of truly giving something meaningful – because as Kiva says, "dreams are universal, opportunity is not."
Related: