Last Updated on May 27, 2023 by Ellen
Theme parks around the world often have discounts for half-day visits, and as retired budget travelers we took advantage of one such promotion by Sun World Ba Na Hills just outside of Danang, Vietnam. For less money than a full-day price of admission, you get a great package deal that includes a cool cable car ride up and down a mountain.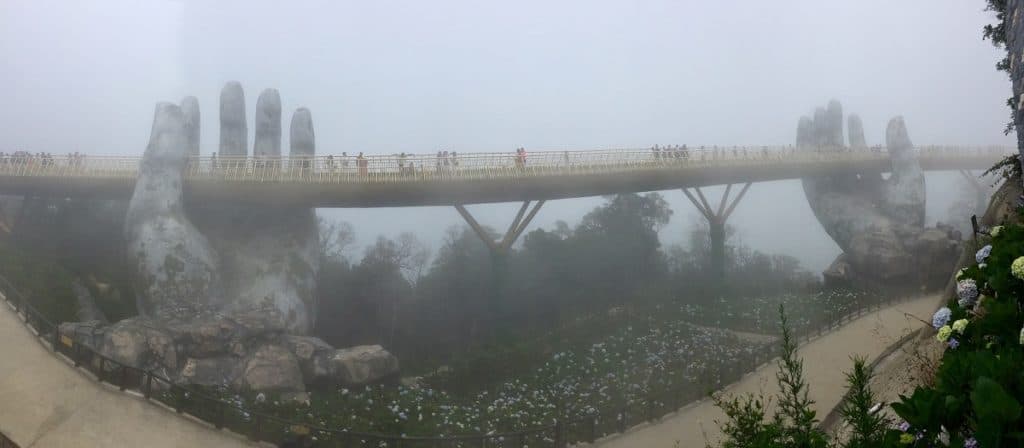 ---
Finding the discount ticket office can be a challenge.  Don't worry. We're here to help.
How to get Ba Na Hills, Golden Bridge discount
You MUST buy these tickets in advance at the small Sun World Ba Na Hills 'storefront' office in Đà Nẵng). The exact address in Vietnamese is 93 Nguyễn Văn Linh, Nam Dương, Hải Châu, Đà Nẵng 550000.
But be warned: there is more than one address that matches the ticket office location (at least by western address standards).
The truth is, each city block in Danang has the same numbers!
They start at 0 and go up to about 400. I walked that whole street and kept finding number 93 – but it wasn't the Sun World Ba Na Hills ticket office. Finally, I did come across it.
The easiest way to locate the place is to go to the One Opera Hotel (a huge, high-class place on the same street). The Ba Na Hills office is about 200 meters EAST of the One Opera Hotel. An exact map is here.
Prices & particulars
The current price (as of May 2019) for the Ba Na Hills "Evening Tour" is 600,000VND – just under $26 usd.
The bus leaves from the main entrance of the Sun World amusement park – near the huge Ferris wheel – about 40 minutes drive from Ba Na Hills. We arrived at Sun World at 14:50. The bus actually left at about 15:10. It wound thru DaNang and made one other pick-up stop at the Green Hotel on the north side of town.
The 'tour' was great!
We went on a Thursday and all the daytime tour groups were leaving as we arrived. There was hardly anybody at the place by the time we rode the cable cars up. (You switch cable cars after visiting the Golden Bridge).
Don't miss the "Fantasy Park" game area. It was a blast! And because there were no crowds, there was no waiting at all. I'm old… lol… and even I enjoyed spending well over an hour playing the completely FREE driving and flying and shooting and racing games in the giant arcade. Plus there is a really nice, fast, indoor, bumper-car ride. What a hoot!
Walking around the fake French village was fun too.  It was deserted and misty and breezy by the time we got there – very dark and spooky.  Fun.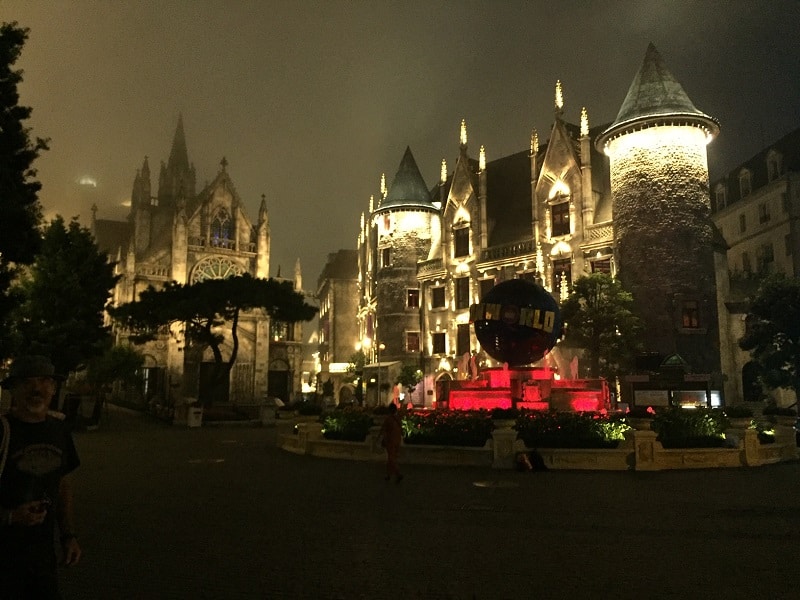 Finally, the buffet is amazing!
A HUGE spread of food including, shrimp, clams, roast beef, all kinds of chicken, salad bar (western style), Vietnamese and Korean favorites, and big desert pastry bar. We gorged ourselves! Plus with 2 drink vouchers, we got 2,500ml draft beers each!
The only downside was the overly loud rock music that is played live. It was ok to watch the performance while eating – but just too loud – we could hardly talk. They also stop refilling the food at 20:00, so don't eat too late.
Anyway, as 'older' budget travelers, we don't usually go to tourist attractions like theme/amusement parks.  But this six-hour excursion was a good time and a solid value for what we received: round trip, comfy bus transport – amazing, long, scenic cable car rides – the Golden Bridge experience – 90 minutes of crazy game room fun – a giant buffet of food (many western selections) & loud music – and a large quantity of beer!  Fantastic!
Thanks for reading, "How to get Ba Na Hills, Golden Bridge discount."
Related:
.
.
.
🙂