Last Updated on April 22, 2023 by Ellen
---
The first thing that struck us was everyone spoke English in Belize. I'd lived in Mexico nearly five months prior and I couldn't believe my ears when someone in Corozal said, "You can speak English now." I think I said, "Gracias."
We rented a house a couple of miles from the border at Chetumal, Mexico, in Corozal. We were there for the month of January. The house is named, "The Happy House." It is at a peaceful lagoon.
This is not the Belize most people think of – with white sandy beaches on Caribbean islands. This is mainland Belize. We knew this going there. While Corozal Bay is salt water, you cannot see the ocean from land. Many people asked us about the beaches and the reef. This map will give you a better idea of where Corozal is located. And this map is a wider view – it will show you the traditional Belize beaches for which the country is famous.
So now, let's focus on Corozal.
Corozal– Belize, but not the beach
Accommodations
The Happy House had three bedrooms, hammocks and kayaks, satellite TV and internet, a washing machine and stove with oven, a large coffee maker, wonderful decks, and swimming pool with an amazing view of the lagoon.
Check out the grounds – gorgeous!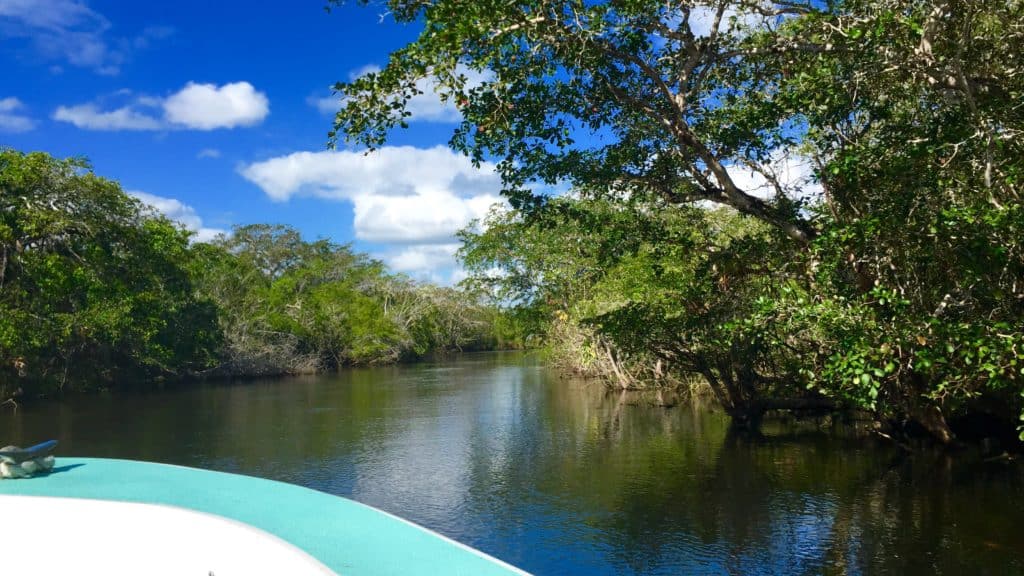 We didn't see crocodiles, but we saw an incredible number of tropical and migratory birds, along with a ton of fish, and the largest iguana we've ever seen in the wild.
The well water there smelled like sulfur, but I got used to it. We use bottled water for drinking and cooking and washing vegetables.
We paid $800 for the month in January 2016. (Note: market prices are actually lower in 2019, when I first noticed the Happy House was for sale.)
The property managers also retired early, like us. They moved to Corozal. Caprice and Joe are wonderful people. We have kept in touch since our stay.
They went out of their way to make us feel welcome. They shared their knowledge of the area with us, showed us how to chop coconuts and sugar cane with a machete, and they were very generous with food gifts. They gave us a cut of peccory, which is wild pig (I don't eat meat but hubby said it was good). They also gave us eggs, herbs, jimaca, bananas and custard apples from their amazing organic and off-the-grid farm. International Living Magazine featured them in an article, which you can read here.
Transportation
We spent most of our days at The Happy House, on the grounds, in the pool and lagoon. To get to town when we needed supplies or to meet people, we take shared taxi vans.
The shared taxi vans in Corozal are old Toyota minivans. The rides basically work the same way as in Mexico. Stand on the side of the road and wave them down.
Taxi vans have green license plates. It costs us two Belizean dollars ($1 USD) to get to town, and two dollars to return to the small development where we are stayed.
There are also regular taxi cars (not vans) that go beyond the main road, if you need to get to a side street. These also have green license plates. These cost more, but we never needed one.
Many of the side roads I've seen off the main highway are bumpy and unpaved, so cars and trucks go slow.
Groceries and prices
The grocery stores in town are mostly owned by people of Chinese descent. The stores are called "China stores" by the locals. We got the staples at these grocery stores, like milk and canned goods, and then for fresh fruit and vegetables we went to a farmers market or new friends and neighbors stocked us up with some goods.
Overall, the cost of food is like anywhere else – it depends on what you want to eat, and if it's in season. But prices are noticeably more expensive than Mexico, and we're not on the islands yet, where we know it will be even more expensive.
There is a store in town that has mostly 'American' brands, and that store is very expensive compared to the China stores, which carry a mixture of Mexican and Belizean brands.
I don't drink, but my spouse does, and he can't get over the beer price and size here. The Belikins are only 9 point something ounces. With the bottle deposit, they usually run around $1.50 USD in stores.
There is another brand of beer here, Presidente, but that is not sold in as many places as Belikin. Interestingly enough, the distributor was out of beer for several days and our friends down the road couldn't get a case.
Imported Colombian coffee and diet coke are not things that are in every store around town, either, so if you happen to come to Corozal and are picky about good coffee, you've been warned.
There are some places to get fried chicken for $3 USD and vegetable fried rice for about the same price. The portions are immense. I ate fried rice for three days.
This 'meal deal' came from a store called "Ban's" just north of town on the highway to the border. Friends recommended it. If you just go into the store, you'd never think to order chicken and fried rice – my husband Tedly says there are no obvious signs announcing it's available.
Some Corozal Sites
It's easy to walk around the entire town. Corozal is not very big. We found the people to be friendly, and they were happy to try to assist us with directions or finding a specific store.
Corozal seems to be somewhat of a melting pot. There are Mennonites here, as well as Asian people, some Mayans and people of Mexican heritage, and people of Caribbean descent. Then there also are the gringo expats,and other nationalities here visiting, or living.
There are a few churches in town, including a Catholic church across from the town square. It seems to be a spot for kids on lunch break from school, and town elders to catch up on news.
There is a park along the waterfront. Someone told me it's relatively new, and appreciated.
A few of the gringo hangouts are along the bay, including Scotty's Crocodile Cove and the Blue Iguana. We've stopped at both of those spots. Another one is Jam Rock.
We also tried a more local place for lunch – Jo-Mel-In. I had grilled fish and stew beans and tortillas, with salad, cole slaw and veggies for $15 Belizean dollars ($7.50 USD), to give you an idea on restaurant prices.
Walking around town, we see a lot of poverty. If people have work, they go by bus or bicycles or shared taxi vans. Not everyone has cars in Corozal, like America or Canada.
I want to note the sugar cane crop. It's massive in this region, and often there will be fires in the cane. The plant has razor-sharp leaves and before it can be harvested, farmers burn holes in an area so they have room to work. It creates what the locals call "black snow" sometimes falling from the sky outside of the town proper. A piece of the ash is pictured below.
On a few different occasions, we've seen people addicted to something laying on the road or sidewalk. Just like anywhere else. We've also seen disabled people, and people in wheelchairs.
These are not wheelchairs like you see in the states. These are like custom built tricycles, with hand pedals in the front. The wheels and chain are metal, but the seating is all wood. At one point, we saw a motorcycle driver go up behind the man pictured below and to push contraption along – giving the disabled man some small measure of help to get down the road.
My spouse whipped out his wallet and handed me a bill and I dashed across the street to give the man a tiny bit of money. He had a kind, sad face. He couldn't talk, but he made a noise I think meant thank you. Later, as we were leaving town, I saw him outside a store eating a banana. If you look closely, you can see the hand crank.
Side note on Orange Walk
Worth noting is a day trip we took to Orange Walk from Corozal. It's a city a bit further inland and it is larger than Corozal. It's about an hour away.
We walked a little bit through the square and checked out some stores. We had lunch at a good place called Cocina Sabor. If you're ever in Orange Walk, try it out – it was good food. I had shrimp fajitas and everyone ordered something different, and everyone enjoyed what they ordered. Our neighbors and new friends were kind to offer us a ride out there. They're pictured with Tedly below. (Side note, we ran into Pam and John a few years later in Rome.)
Crime in Corozal
Yes, there is crime in Corozal — just like most other places on Earth. I once had a woman interested in going to this part of Belize ask me a bunch of questions, which I answered, only to have her accuse me of withholding crime statistics from her.
For any vacationer, retired budget traveler, or tourist from the U.S. I say this: you won't be shot dead while enjoying an outdoor concert, or attending church, as happens often back home. And I also say this: we never had any problems in the month we lived there.
The U.S. State Department is a good place to check for the latest information on crime in all of Belize – not only Corozal.
Take a chance
I certainly only know a little bit about Corozal and its people, but I know enough to say I like it here a lot, and I'm so glad we took a chance and came here. Taking chances in new places is part of what vagabonding is all about. And we will be traveling a lot more in the future.
I thank God for the chance to do this. I try to treasure every day. And I would have missed all of this fun if I'd been worried about the next deadline in the news business.
This post was updated in April 2023.
Wow! You found one of this site's early posts!
Corozal, Belize was a cool stop on our global wanderings. We had some wonderful experiences.
We had other great experiences in Belize, too!
Reminder, we are an independent blog. We get nothing in return for any positive reviews.
EARTH VAGABONDS NEWSLETTER