Last Updated on June 3, 2023 by Ellen
When I was in the Sahara Desert, I thought, 'Wow. This is about as far as I can get from the office.' And for the rest of my days, I will cherish that thought and the related feelings the Sahara gave me. It's an experience that made me fall in love all over again with life, Earth, and Tedly.
I also thought most of my current imagined problems and struggles were insignificantly small, as the vastness of the desert forced everything into its right size. When I was able to quiet my mind – even if only for a flash of time now and then – my ego stopped self-inflation. All was still, and silent. Oh! The silence!
Yet, everything around me moved, shifted, breathed. Earth was alive and I was alive and I've never been more aware of our synchronicity. Out there in that real world, there were no meetings or commutes, no ratings or advertisers. It was as far away as I had ever gone from media blither in this age of lies. Just me, the Sahara, the truth. It as a joy: I was as far away from the office as I could get – without going to the moon!
The dunes whispered the planet's history, while the universe spread out in front of me on a small portion of Earth. Once sunset colors faded from Earth, the most intense, star-filled night sky I have ever seen again showed me: how small I really am. And quiet of it all – the quiet. It is difficult for me to describe. Before the Sahara, I had never heard 'silence', and yet, somehow, that sound touched my deep center. It brought my soul to a place of peace.
To be there in that quiet, in that vast space with the person I love most on the planet — it was a gift from God. My spouse is not a quiet man. Tedly likes to chatter away on a near-constant basis. It is not "blither", but I will admit: sometimes, in the daily course of our lives, I automatically tune him out.
But out there in the Sahara with zero noise to distract me – not even my own ego – I heard his soul loud and clear. I saw his beautiful, open-minded, forward-thinking, sweet self. I realized my ego can block my human connection to him. When it does, he can go fuzzy on me, like an old-fashioned TV channel brought in on rabbit ears that won't clearly come in, but you can just make out the images of people acting in some drama of a show that you want to watch.
When the Sahara helped to quiet my mind, I was fiercely three-dimensional, and perhaps I was rocketed into the Fourth Dimension.
In those moments when we were around other people, I saw how the nomads are resourceful and resilient. They are free, intelligent. Their lives are in flexible sync with a harsh environment. They move their ever-changing temporary homes when they have to, yet they can send a child to a village school to learn skills for modern society survival when necessary. Nomads are happy when their camels are happy, and their camels are happy during years with a little rain. In those good years, the nomads' desert counterparts freely graze and make baby camels.
Camels are amazing creations I still cannot fully wrap my mind around. Camel evolution is a miracle for nomads. These creatures have perfect widened feet for walking on sand; their legs bend in a way to help them stay cool on the blistering hot earth; they don't have to drink water for long periods of time; their blood cells are shaped differently to help prevent dehydration; their eyes, noses, and odd indented heads serve a purpose to protect them from sand. I'm in awe at how these creatures have evolved.
I loved my brief time in the Sahara Desert.
'As far as I can get from the office'
Erg Chebbi or Erg Chigaga in the Sahara Desert?
As early retirement budget travelers, our goal was to have the most authentic experience possible, at the lowest price. First we had to decide which area to visit. There are tours to Erg Chebbi or Erg Chigaga (also spelled Chegaga, or Chagaga).
Erg Chebbi is easier to get to from Marrakesh (where we were when we hatched our plan), and Chebbi's sand dunes are much larger than Chigaga's. But, Chigaga is the road much less traveled – it is not loaded with tourists.
We decided to go where fewer people would be – Erg Chigaga – the frontier into the Sahara dunes. Organized tours there cost more because it's more difficult to get to. For a three day, two night excursion from Marrakesh, we were quoted a price of about $470 per person for a private tour. Yikes, that's way beyond our means. Many tours are marketed as luxury – meaning they have running sink water, flushing toilets, electricity, and some even have wifi. We are talking about the Sahara, after all. We hunted for options on the internet.
Our destination: Erg Chigaga
We found we could take a bus to the village of M'hamid, where a less expensive private tour by a villager could be arranged. That still left the problem of accommodations in the village. It's a 10-hour bus ride to get to the village from Marrakesh. Airbnb solved this issue. In fact, it was through Airbnb that we found our private guide.
We also discovered that Airbnb has (fairly recently) become an option for travelers to M'hamid. Note – we did not find our plan on the 'experiences' part of Airbnb – we found it on the rental listing. There may be other ads by people in the 'experiences' section – you'll have to have a look for yourself.
The Airbnb rental "Dar Yaya" was $18 a night. First we confirmed with the owner that a private tour could be arranged, and we worked out a price for the 24 hours we wanted to spend in the Sahara. Then we booked the village rental for three nights. The first night we arrived late from the long bus ride, and our village accommodations were rustic and comfortable. The next morning we went to the desert, and kept most of our bags in the Airbnb unit. The second night we spent in the desert, and we came back to the village around noon on the third day.
Excursion details & prices
Our customized desert excursion included: a fabulous private guide; a 2.5 hour off-road ride to get to the dunes with a few stops along the way; hot sweet tea; lunch when we reached the desert; time to relax and enjoy the quiet of the dunes within walking distance of camp; camel rides to a fantastic sunset spot in the dunes; dinner back at camp; evening campfire (and songs!); more tea; comfortable tent and warm bed; sleeping bag for dramatic night-sky viewing; flushing toilets in a communal structure that also had hot water powered by solar energy; breakfast; two-plus hour off-road ride back to the village.
As a bonus, when we returned to the village, our guide showed us around the village of M'hamid. We also had a tour of a 300-year-old kasbah where people still live today.
The desert excursion cost $123 USD per person. We also tipped a total of about $50 USD to our main guide, the camel operator, the camp cook, and our Airbnb host who helped arrange everything via Airbnb email.
It cost $17.50 USD per person for bus tickets from Marrakesh to M'hamid, and another $17.50 from M'hamid to Casablanca (we weren't going back to Marrakesh).
Add $54 USD for our Airbnb rental for three nights, and you get a total of $385 USD – $192.50 per person. That's far less than anything quoted to us back in Marrakesh for an amazing experience on Erg Chigaga.
We went in late January. The weather was not scorching hot, but it was cold enough at night to need several layers (I get cold easily). During the day in the sun, it felt like it was a comfortable, warm 75 degrees. Our guide told us this was a good time of year to go. There was only one other traveler at the large camp (from Spain) and no one else was in our four-wheel drive out into the Sahara or on camels to the sunset spot.
Price comparison for tourists
Not everyone is an early retirement budget traveler. If you are coming to Morocco as a tourist on a vacation with limited time and you want to see the Sahara, going with a tour operator is a valid and sensible option.
For a three night trip to Erg Chigaga with a private vehicle and private guide, one tour organizer quoted us $472 USD per person. The first night would be in a hotel in a town on the way to the dunes, the second night in a Sahara camp, and the third night in a hotel in another town on the way back to Marrakesh.
To cut the price, the same tour operator offered a shorter tour to Erg Chigaga for $347 USD per person. The difference would be no third night in a hotel in a second town. Instead, we would wake up in the desert camp and make the drive all the way back to Marrekesh on the third morning.
A third option was a two night trip to Erg Chebbi. The price included a van ride with other tourists to a private hostel room the first night, and one night in the desert in a private tent. The driver would take us right to the dunes — no off-roading needed. From the edge of the dunes at the drop off point, it would be a 20 minute camel ride and that's it – you're there on the dunes. The next morning, the van takes you back to Marrakesh. This was the cheapest option, at $236 per person, partly because Chebbi is easier to get to. (It can be cheaper if you don't want a private hostel room or private tent.)
We've done group tours like that before, like our volcano hike up to Acatenango to see Fuego explode in Guatemala. That was a great time and super cheap! This time, however, we wanted something a bit more tailored for us, with few people around.
The CTM bus ride from Marrakesh to M'hamid
Our personalized tour involved a 10-hour public bus ride to get to the village of M'hamid. The CTM bus was comfortable, modern, had reclining seats, and the driver stopped for bathroom and snack breaks every few hours. The longest run without a stop was three hours – right after we left Marrakesh. If you are apprehensive about taking a pubic bus across the Atlas Mountains in Morocco, don't be.
Tip: buy your bus tickets early if you go this route. We bought ours four days in advance and there were only six seats left. I would advise buying your return tickets at the same time because the office in M'hamid is small and seems to have irregular hours.
We thought about renting a car before we bought bus tickets, but we had never driven over the Atlas Mountains and we didn't know the condition of the road. Well, the road is in great shape in most spots. Where rockslides have happened, small stretches are under construction, but for the most part, the road is better than many in other countries.
Fantastic memories and future plans, and my gift for the present
Our guide on this trip also does excursions for a week or longer into the desert. We seriously are thinking about doing that in a future year while we are young and healthy. After all – that's the point of early retirement budget travel – do it while we can.
In the meantime, I can try to regain those moments of bliss from the Fourth Dimension into the present. Transported into the stillness of the Sahara, I might again feel that peace — peace as vast as the Sahara's space… if only I can quiet my mind.
Now, my cherished photos from that brief time when I was as far as I could get from the office.
Sahara Photos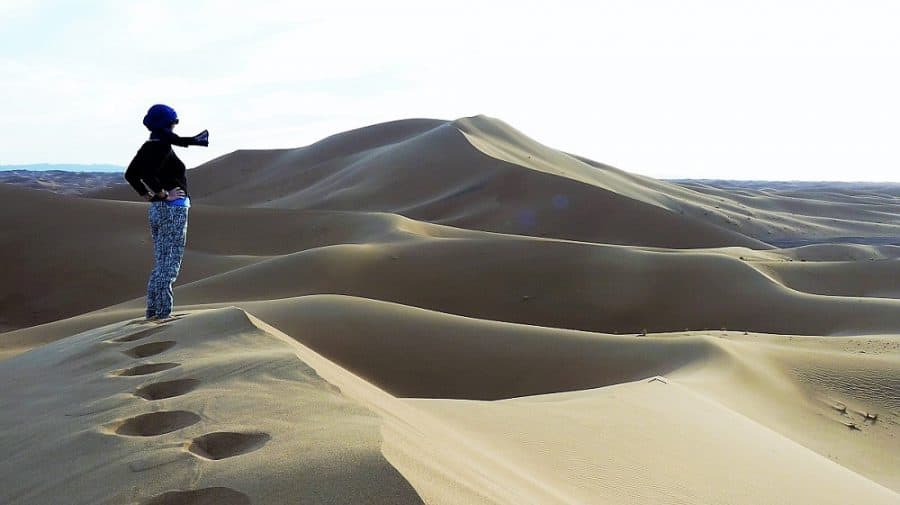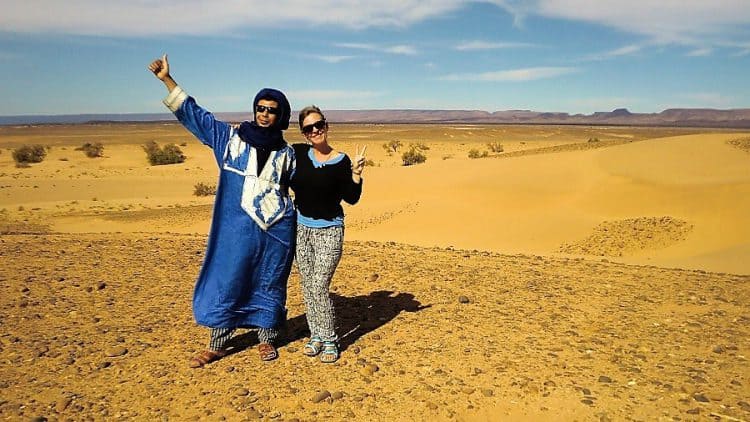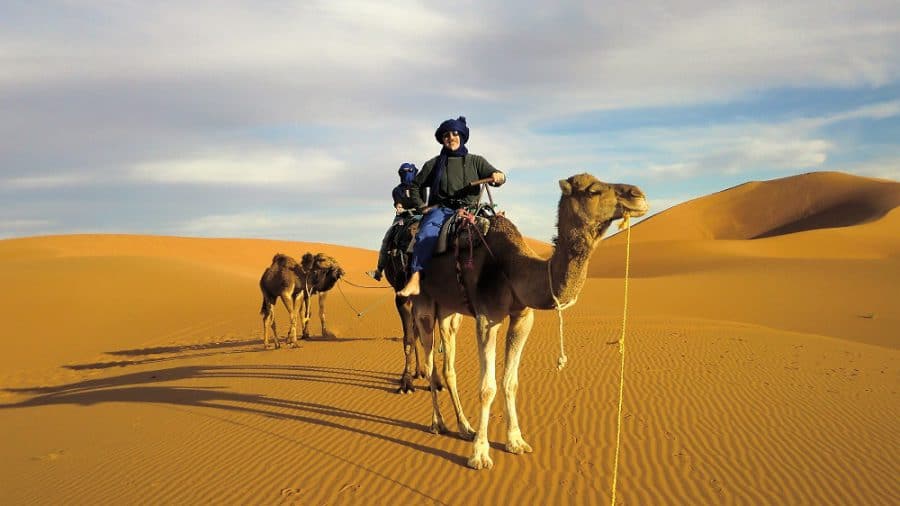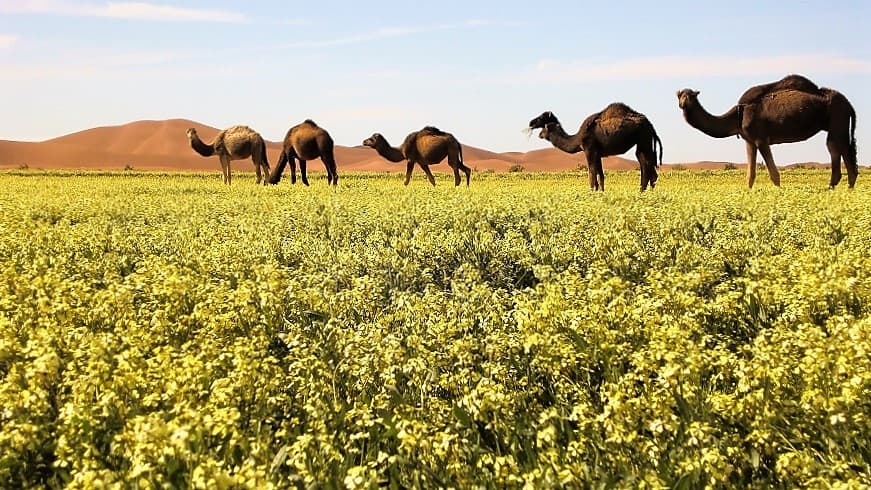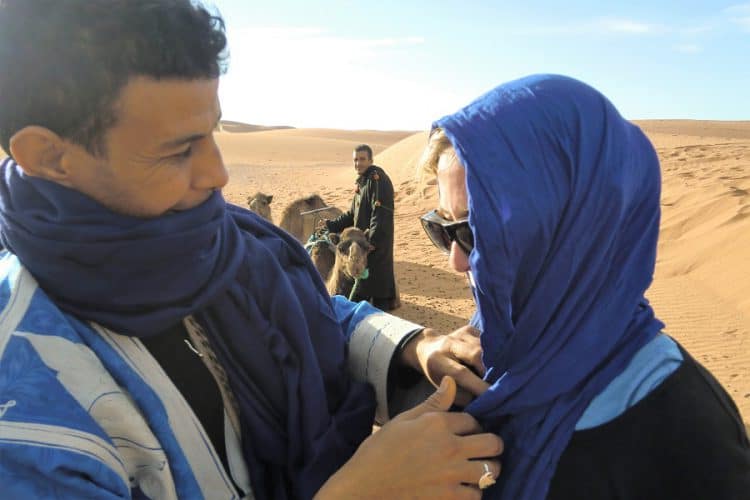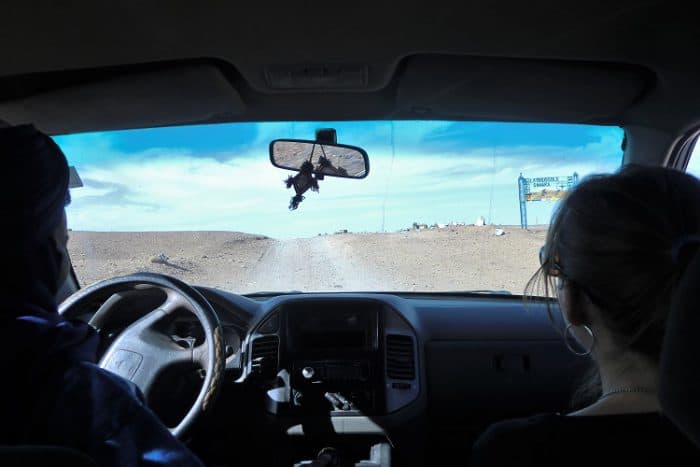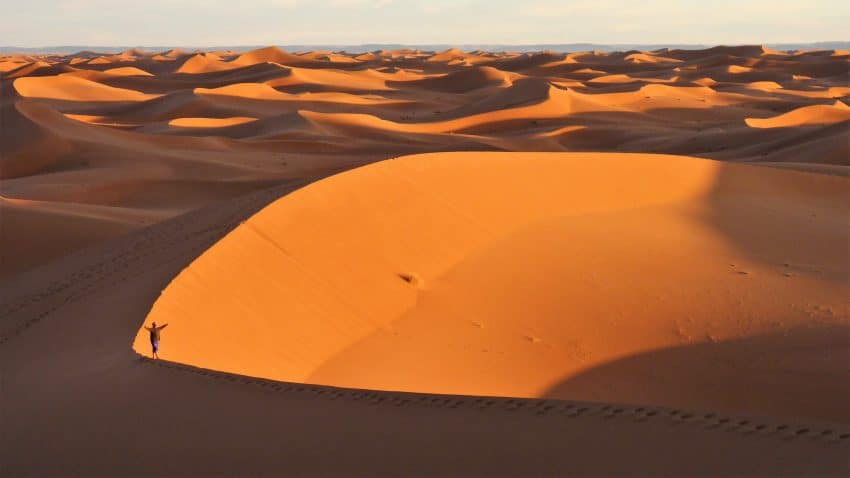 🙂
Thanks for reading, "As far as I can get from the office: The Sahara Desert."
Other adventurous Airbnb stays:
Earth Vagabonds Newsletter